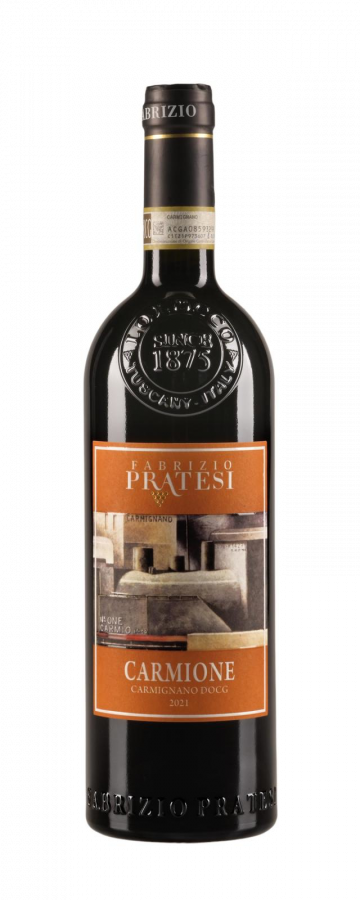 Carmignano DOCG •
Sangiovese 70% Cabernet Sauvignon 15% Cabernet Franc 5% Merlot 10%
Plant density: 6,250 plants / ha
Training system: Guyot
Soil: medium stony mixture derived from marly limestone of the alberese type and clayey schists (eocene) sandstone (oligocene) medium-high presence of skeleton.
The Apennine influence is evident in the area, resulting in strong temperature changes especially in the summer period; viticulture therefore develops in a particularly suitable environment. In the plots where the Merlot vines are planted, the presence of clay is higher
Agronomic management of the vineyards: Organic
Harvest: manual in 15 kg boxes
Vinification: temperature controlled steel tank for about 25 days
Aging: about 12 months in French oak barrels of first passage and second passage; after bottling it is left to rest in the bottle for a few months before being placed on the market
Serving temperature: 15-18 ° C
Label: design by Marcello Scuffi
Tasting Notes
Very intense ruby red color.
Very broad aromas with hints of fruit, cassis and spices, elegant and persistent finish.
When tasted, it expresses itself with a powerful structure but also with a measured balance, a full, fine and balanced taste with sweet, dense, dense, balanced tannins accompanied by a fresh acidity that extends into fruity and spicy notes. Elegant finish.
Pairings
Appetizers with high quality cold cuts, grilled red meat dishes, aged cheeses.